Subtract almost all remaining hopes of a stimulus, add thousands of new COVID-19 cases, sprinkle in some pre-election volatility, and what do you get? A day like Monday on Wall Street.
Major stock indices took it on the chin, suffering their steepest spill in a month. By the end of the day, the S&P 500 Index (SPX) had surrendered most of October's gains, and the Cboe Volatility Index (VIX) was above 33, its highest level since early September. A rising VIX often represents a warning signal, and it had stayed beneath the psychological 30 level for weeks.
The sector map was a virtual sea of red Monday, with only a few stocks in the Health Care and Utilities sectors lighting up green.
It all boils down to record levels of virus infections and investors pretty much throwing in the towel on any chance of a fiscal stimulus before the election. In fact, there's talk that if we don't get a jolt of federal money ahead of next Tuesday, it might be a long time coming, no matter which party emerges triumphant. There's not a lot of optimism that a lame-duck Congress can accomplish much, so that could push things back all the way till after the inauguration.
Basically, investors saw that and started to recalibrate. They'd spent a few weeks putting some premium into stocks as it looked like Congress and the administration might come through, but that premium's being pulled out. At a sector-level, Energy suffered the worst punishment with losses of more than 3% Monday as crude oil capsized. But some of the sectors that had been doing better recently like Financials and Industrials—areas that tend to do well when the economy strengthens—also got taken to the woodshed.
Crude, like those "cyclical" sectors, usually performs better when investors get bullish about the economy. Judging from crude's action today when the front-month contract plunged below $39 a barrel after being close to $42 last week, there's not much optimism about things picking up soon. Although crude did seem to find support at the $38.50 area, support is thin underneath, and it could conceivably take a quick dive to around $36 (see chart below).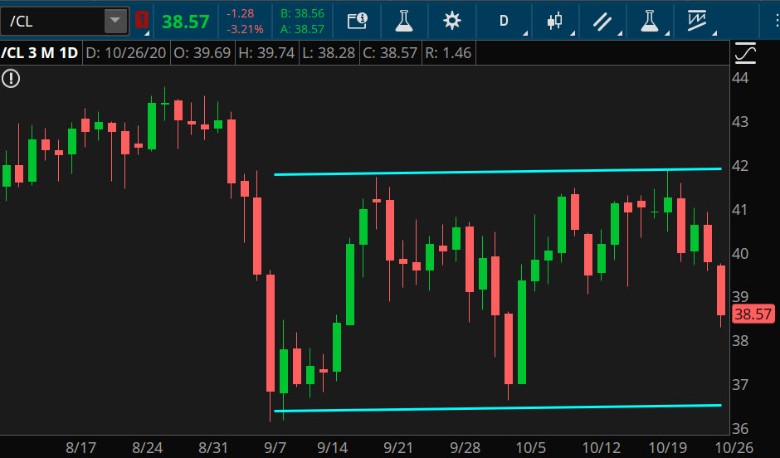 CHART OF THE DAY: CHANNELING CRUDE SUPPORT AND RESISTANCE. After failing to break out above $42 to the upside on several occasions over the past couple months (upper blue line), WTI Crude Oil futures (/CL) have come under pressure, with chart watchers eyeing a possible test of the mid-$36 level (lower blue line), where /CL has found some support in recent days. Data source: CME Group. Chart source: …
Full story available on Benzinga.com